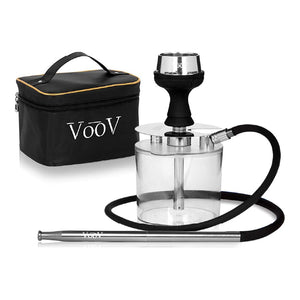 🔥 Simple assembly video instructions available. Please reach out to merchant if you can't manage to assemble your new Acrylic Hookah!

🔥 Measuring approximately 11" tall, this Modern Acrylic Hookah is made using high quality plexiglass and is virtually UNBREAKABLE. It's superior design and engineering makes this hookah hit just as well as a glass hookah and will last for a very long time.

🔥 Easy to assemble and disassemble, throw this hookah set in the trunk of your car and use it on the go. The complete set includes a silicone hookah bowl, aluminum charcoal tray, tongs, wind guard/heat management device, acrylic body, purge, downstem, and a food grade silicone hose with an aluminum handle.

🔥 Established U.S. Brand - Unlike other overseas brands, we can be reached and we WILL respond. Don't like your new acrylic hookah set? No problem at all. You have 30 days (from the date of purchase) to return or replace your set.