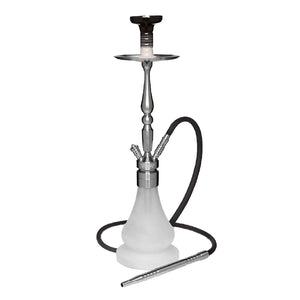 Measuring approximately 25" tall, this Classic German-style hookah is handmade using high-quality rust-proof aluminum. For this reason, this hookah will not rust or produce a terrible and unhealthy metallic taste. Traditional hookahs, on the other hand, are made using cheaper metals that rust over time.

You will receive a COMPLETE set with your purchase. It will include a high-quality hookah ceramic funnel bowl, hookah charcoal tray, aluminum hookah stem with purge valve and twist on snap utility, high-quality base handmade with grade "A" glass, tongs, and a VooV premium food-grade silicone hose with an aluminum handle.

Easy to assemble, one of the great features of this hookah is the ability to twist snap the stem to the base without a rubber grommet. Rubber grommets smell bad and have to be replaced frequently. Traditional and lower quality hookahs use rubber grommets. Moreover, the wide base will keep your hookah from tipping over.

The size and design of this hookah make it great for the everyday hookah enthusiast or someone just looking to entertain a party. We recommend washing the hookah after every use by running hot water through the stem pipe, washing the bowl with a sponge, and rinsing the vase with a brush.

Above all, our customer service is unmatched. We pride ourselves on customer service and do anything we can to keep our customers happy. Unlike other overseas brands, we can be reached, and we WILL respond. Don't like our hookah? No problem at all. You have 30 days (from the date of purchase) to return or replace your set.